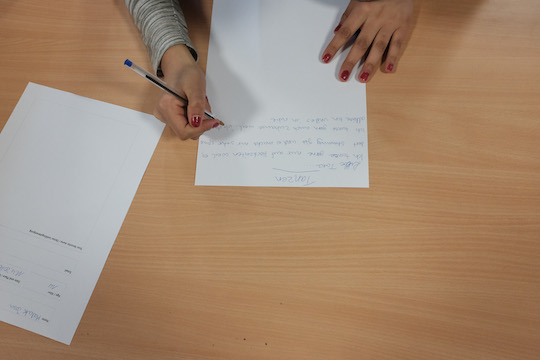 deufert&plischke:
Just in Time
Rather than a representation or selection of historical dance events, or even a reconstruction of performances from the past, the Just in Time project by the Berlin-based 'artistwin' deufert&plischke instead saw dance heritage as a process involving people's individual experiences.
Over three years, deufert&plischke were joined by fellow artists on a search for traces in Berlin, New York and Tel Aviv, where they wrote letters to dance with the inhabitants of these three cities. The resulting collection of letters was intended as a temporary local archive, presenting not only wholly different dance experiences and memories but also stereotypes and clichés. The letters describe defining moments and epiphanies, or even misunderstandings and disappointments, the main point being that they provide a wholly personal view and thereby establish a tangible relationship with dance as a sensual and subjective medium. The local archive in no way claims to be complete or comprehensive, of course, but it was aiming for the highest possible level of participation.
At the end of the project's visit to each of the cities, local participants were invited to a big ball to dance a choreography created by deufert&plischke on the basis of the letters written.
Lecture performances in which local dance professionals presented their personal letters to dance took also place in Berlin, New York and Tel Aviv.
The letters collected were also published in English in 2018 and can be ordered from the theatre bookstore EINAR & BER.
Interview with Kattrin Deufert & Thomas Plischke
MORE
Project documentation
MORE
BERLIN:
Writing letters

Lecture performance
Closing ball
4 November 2016 |  Bibliothek am Luisenbad, Travemünder Str. 2/ Badstraße, 13357 Berlin
TEL AVIV:
Lecture Performance
27 October 2017 | Tmuna Theatre  –  with Roni Katz und Omer Krieger
Closing ball
28 October 2017 | Tmuna Theatre
NEW YORK:
Lecture Performance (with  Valda Setterfield, Jannet Panetta, Kareth Schaffer, "Hallo Dreamz" Henry) & Closing Ball
24 February 2018 | Spyer Hall
ESSEN:
Just in Time Project Space  
BRUSSELS:
Letter writing

Closing Ball
DUSSELDORF:
Ballroom
LOS ANGELES:
Collecting letters
Ballroom
DRESDEN:
Just in Time Project Space  
SINGAPORE:
Writing letters
Ballroom
REYKJAVIK:
Writing letters
Ballroom
22 November 2019 | IDNO
POTSDAM:
Bal populaire